Günter Deckert Reports
Again Sentenced to Five Months of Prison because of § 130 German Penal Code
Günter Deckert – born 1940 at Heidelberg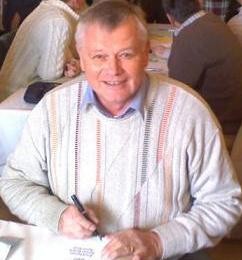 My "crime" this time – in 2007 I facilitated the publishing the German edition of Carlo Mattogno´s Auschwitz – The First Gassings. The original Italian version appeared in 1992 followed by an English version in 2002.
Though most of the text in question had already been translated by one or two people, some pages in English as well as in Italian had not been done, and so I completed the task. My involvement is acknowledged at page two, namely, that I do not share the author's statements and conclusions. Lawyers whom I asked for advice had recommended me to have that statement included thinking that it would prevent the legal system from prosecuting me.
Nevertheless, just on four years ago five members of the political police raided my home, which made it my 12th "special visit"! They took my PC as well as two copies of the Mattogno book, one of which was my author´s copy and the other copy had been sent to me by a German woman living in England; she complained of the many misprints therein. Months later my PC was returned – broken! Mannheim's public prosecutor Grossmann, had initiated this action after the Bundesamt für Verfassungsschutz – Central Office for the Protection of the Constitution had drawn his attention to the book!
In summer 2009 the accusation was accepted by my home town's, Weinheim Amtsgericht - County Court. I appeared without a lawyer because at this legal level it is not necessary to have legal representation. I only wanted to see how the single sitting judge assessed the accusation. The summary judgment made on that day sentenced me to four months prison suspended for three years, and a fine of 600 Euros together with court costs.
Prosecutor Grossmann had asked for six months prison – and we both appealed the decision to the Landgericht Mannheim – District Court. This is a minor court – Kleine Strafkammer consisting of one professional judge, in my case Judge Roos as president, plus two jurors who were about my age. Mannheim is also the Nürnberg of a number of German revisionists – as well as Fred leuchter, Hans Schmidt, Fredrick Töben, Siegfried Verbeke, et al.
As to the Germans, Mahler, Zündel, Rudolf, Stolz, I have only three German copies left of the documentation: Die Mannheimer Ketzer-Prozesse - § 130: 'Holocaust….'-Leugnung 2005 – 2009 gegen Ernst Zünde, Germar Rudolf, Sylvia Stolz – 304 pages, some in English taken from the The Barnes Review and The First Freedom, soft cover, 30 USD, shipping included. It is recommended to enclose the mone in your letter.
The Mannheim trial started on November 14th and finished on February 2nd. It resulted in those five months of prison without probation. The trial took this long because I had changed my tactics in order to make the court understand why I was in favour of revisionism. I gave all the reasons and proofs still possible to be brought before a court without being accused again of breaking the law. We do not have the concept of "absolute privilege" that exists in Common Law where anything canvassed in court cannot be used against an accused to attract another charge. This happens in Germany where, for example, lawyer Ludwig Bock, who had defended me in my 1990s court case was himself charged with offending against § 130. This was the reason why he on 8 November 1999 remained silent as Fredrick Töben's lawyer when Töben was before the Mannheim District Court, and it was one of Töben's grounds for appealing against his imposed 10 months prison sentence.
At the beginning it seemed that Judge Roos had doubts as to the problem of "publicity" of "distribution" of the book necessary to sentence a person. But in the end he jumped upon the suggestion of prosecutor Grossmann stating that the possibility of coming across the book via the internet 4. fulfilled the requirements of § 130.
On the sixth trial day the five months prison sentence was handed down, and I immediately advised the court I would appeal this decision to the Karlsruhe Regional Court – Oberlandesgericht because such an appeal has to be made within a week of sentencing. Then, after receiving the written sentence I have a month in which to make my submissions to the appeal court. Its decision may be handed down some time before the end of this year. If it goes against me I can then appeal to the Bundesverfassungsgericht – Constitutional Court – at Karlsruhe.
Trial reports, especially the judgement day, were carried nationwide but unfortunately not objectively written. German democracy that guarantees basic rights does not extend to those individuals who think nationalistically.
Those interested in learning more may ask for the six trial reports plus some of my motions. The English translation of the reports etc., done by Carlos W. Porter, will soon be finished. You can get them either via an e-mail attachment – free of costs, donations welcome – from Guenter.Deckert@gmx.de or via snail mail – about 30 pages A4 for 10 dollars, from: Günter Deckert, Postfach 100 245, D-69442 Weinheim an der Bergstraße, Germany.